Community
Come and Play
Come and Play are monthly sessions that we run for our local community for 0 – 4 year olds and their parents/carers. Feel free to pop in anytime from 9.00am – 10.30.am for activities and a chat. Admission is £1 per family and includes refreshments. Details of our Come and Play Sessions for this year will follow.
Local Residents
Stamford Green is a community school in the heart of a residential area. Maintaining good relationships with our local residents is important to us as a school and we endeavour to keep them well informed with school life. We do this by producing a termly community newsletter with all the latest news and events going on in school throughout the term.
We feel privileged and very lucky to have several residents giving up their time to come into school on a regular basis. They are a tremendous help to the whole school, teachers and children alike, using their skills and talents to help with a variety of 'jobs' from helping prepare classroom resources, to listening to the children read, to keeping the grounds looking lovely with their gardening talents. If you would like to get involved, please contact Miss Swann our Deputy Headteacher: deputy@stamford-green.surrey.sch.uk
RESIDENTS NEWSLETTER ISSUE 3 - NOVEMBER 2022
RESIDENTS NEWSLETTER ISSUE 2
RESIDENTS NEWSLETTER ISSUE 1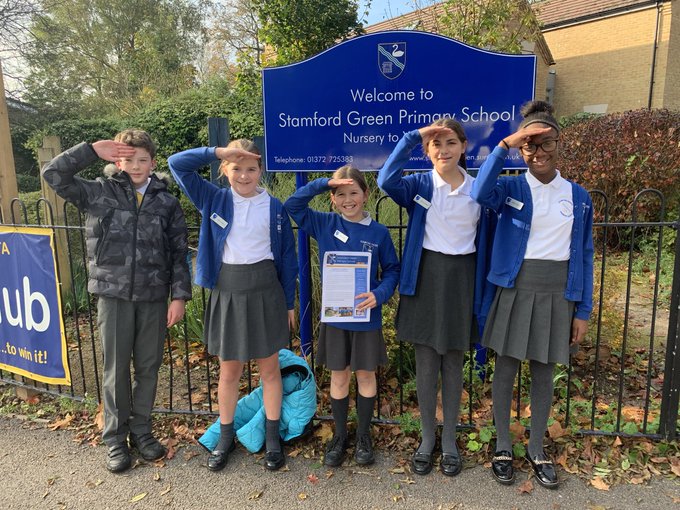 Generations Coffee Morning
Each half term the School Council runs a Generations Coffee Morning for retired local residents and grandparents. The children serve refreshments and it's a great opportunity to share experiences across the generations. Details of Coffee Morning dates will follow.
Volunteering
We really value the time that volunteers give us to come into school to listen to the children read. With this in mind, we have named our reading volunteers our 'Reading Heroes'. The children really benefit from the extra reading practise and our Reading Heroes enjoy it too.
In addition, we do work closely with our local secondary schools and universities to provide volunteering or work experience opportunities.
If you are interested in becoming a Reading Hero or volunteering in any other capacity, please contact Miss Swann, Deputy Headteacher: deputy@stamford-green.surrey.sch.uk