Curriculum
At Stamford Green Primary School and Nursery, the foundations of our curriculum are built upon the three strands of Excellence, Learning without Limits and Opportunity. In addition, our seven commitments of happiness, inspiring, learning, togetherness, values, ambition and achievement all contribute to bringing our curriculum to life.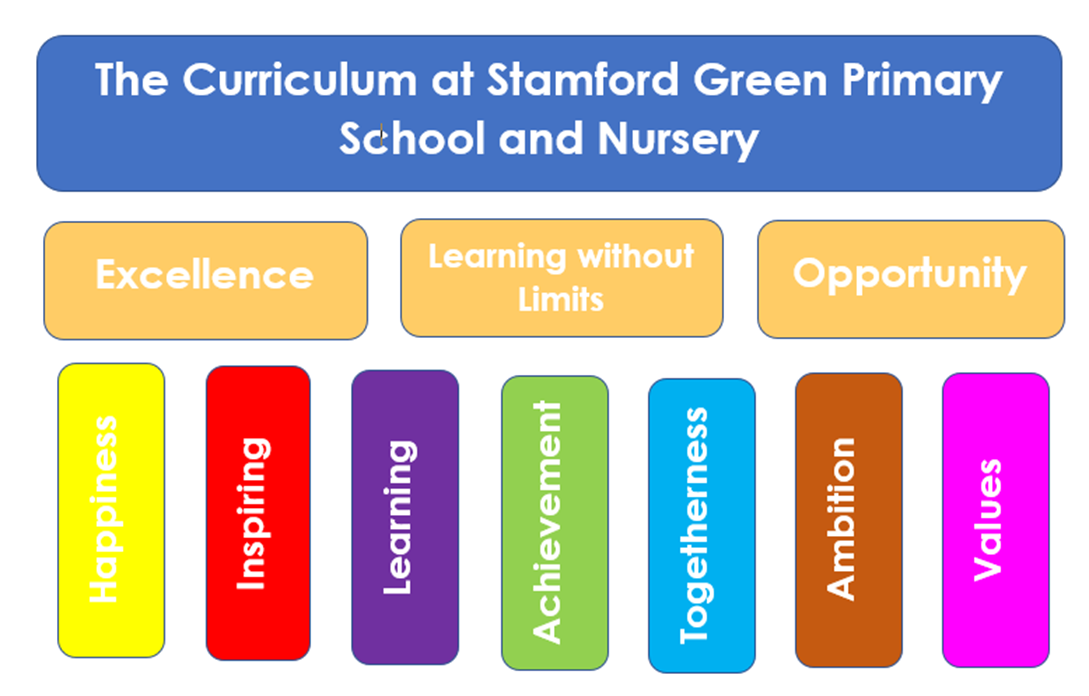 We have high expectations for the learning experience that the children receive at Stamford Green. Our high standards for classroom environments and the teaching and learning that take place within the classroom ensures that there is consistency for all children of all ages and that all children achieve to the best of their ability, across the curriculum.

We believe that all of our children deserve high quality learning experiences therefore, we have planned an exciting and engaging curriculum that will prepare them for to be continually learning.

We are aspirational for all children and have developed an exciting, ambitious and progressive curriculum from Nursery – Year 6. It builds and develops their skills and knowledge so that they make progress through knowing more, remembering more across all areas of the curriculum.

We passionately believe that everyone is capable of amazing things. Each subject area, along with our Thrive Experiences and Opportunities, encourages the children to be inquisitive, show curiosity and ask questions which deepen their learning and skills further. This is so that they see themselves as mathematicians, writers, historians, geographers and engineers, to name a few!

Our commitment to learning without limits means that we don't set a ceiling or a limit on what any individual is able to do. We encourage our children to challenge themselves in their own learning, asking questions and deepening their understanding of the world around them.

We are committed to utilising experiences beyond the classroom to extend and add to the learning for all children. This ensures that the children have first-hand experiences that enhance the curriculum and give every child the opportunities to excel, grow and foster a love of learning.

Our Thrive Experiences and Opportunities complement the learning to enhance the children's knowledge and understanding. We ensure that we not only think about the places that the children can visit to enhance their understanding of subject curriculum areas, but also carefully plan for opportunities for their own personal development, ensuring that they become kind, courteous, polite citizens of the future.